You've heard about their work…here are some pictures of those who make the legal decisions about your pet's food.
Thanks to AAFCO, pictures were taken of attendees during the meeting and during the "Attendee Reception" that took place Tuesday July 31, 2018. AAFCO published these pictures on the paid (but public) side of their website, so I thought I'd take the opportunity to share with readers pictures of those that make decisions about your pet's food.
This is the 2018 AAFCO Board of Directors: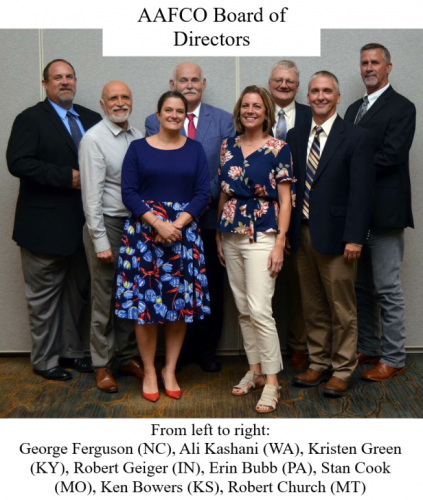 The 2017 AAFCO Board is who voted to remove my consumer advocacy position on committees (many of the same people pictured above). Click Here to read what AAFCO did.
Below is a picture of current AAFCO President Stan Cook.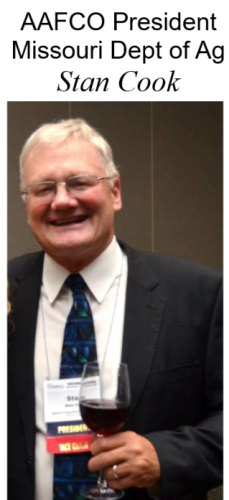 Mr. Cook's primary job is with Missouri Department of Agriculture. Through Freedom of Information Act request, we learned that Missouri Department of Agriculture ignored some serious violations of law at a Mars Petcare plant in Joplin, MO. You can read about those violations Here.
At this recent AAFCO meeting (2018 July), AAFCO presented an award to Mr. Jim Barritt of Mars Petcare.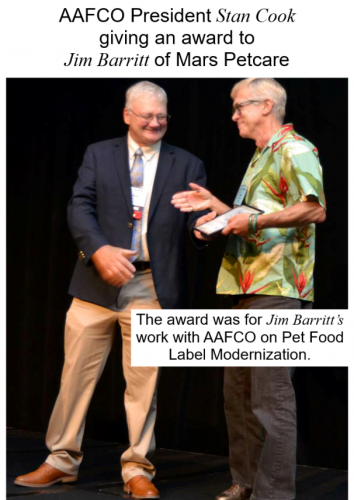 Mr. Jim Barritt of Mars Petcare was given this award by AAFCO for his voluntary work on the Pet Food Label Modernization working group (the AAFCO committee that is working to update pet food labels). (Yes, you read that correctly…AAFCO allows employees of pet food manufacturing to determine what pet food labels will say in the future.)
AAFCO also gave an award to Mr. Richard Sellers of the American Feed Industry Association (AFIA):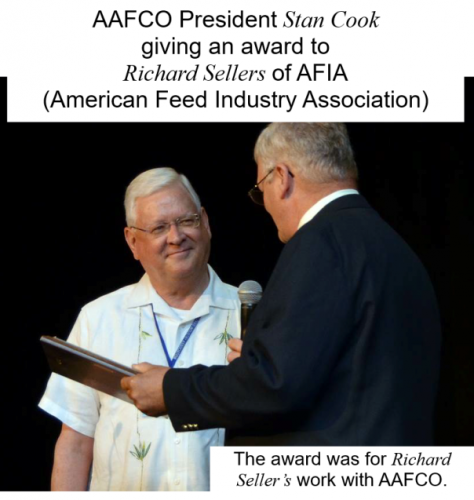 Mr. Sellers was awarded for his long history of "work with AAFCO"; Mr. Sellers is retiring from AFIA. At an AAFCO meeting several years ago, when a consumer advocate spoke out against grocery waste (in plastic packaging) recycled into livestock feed, Mr. Sellers dismissed her comment stating "we are trying to feed a hungry world."
Below are pictures of several former AAFCO Presidents. Personal opinion: Mr. Richard TenEyck (middle picture) has been the fairest to consumers President AAFCO has ever had.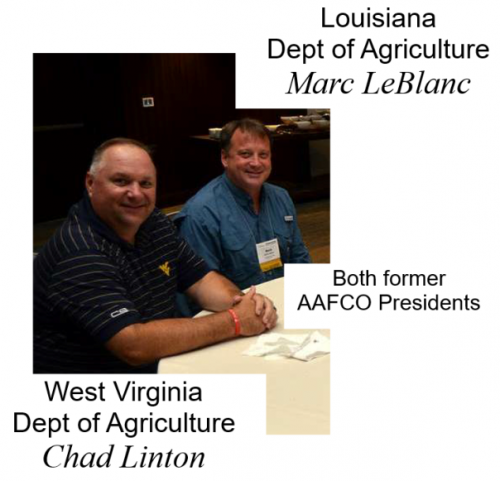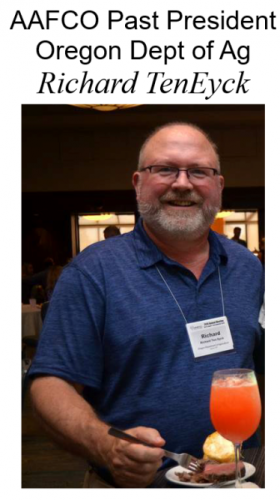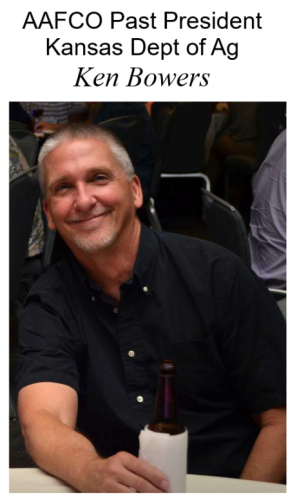 AAFCO's new Executive Director: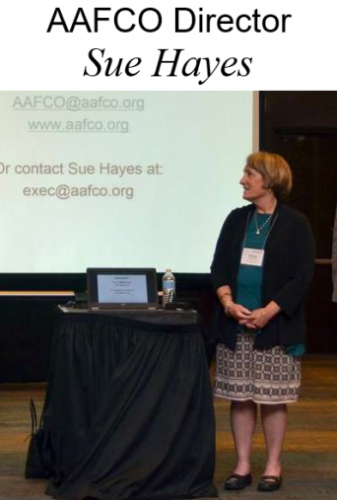 Funny story regarding Alan Harrison pictured below. At an AAFCO meeting several years ago, during the last session of a long day – I sat next to him. As I sat down he joked asking if I remembered to bring a pitcher of margaritas. I responded 'Do you know the bar has an organic margarita?' To which he cleverly responded back "Right now, I'd settle for a feed grade margarita."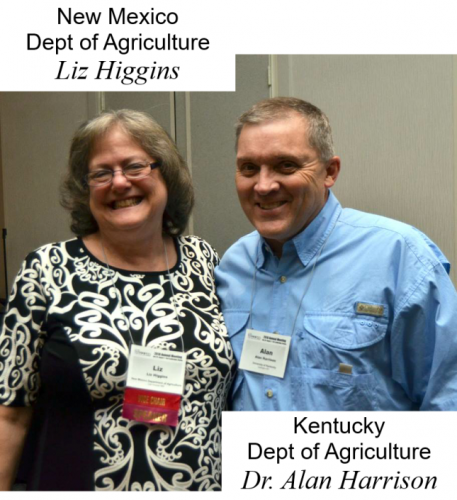 FDA representatives that participate at AAFCO: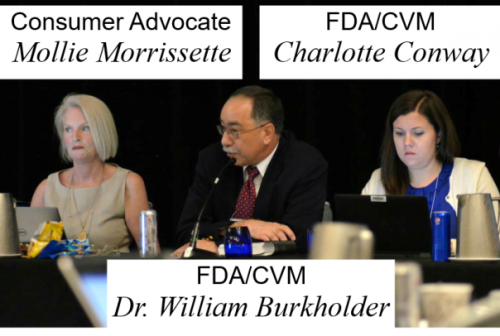 The above picture was taken during the AAFCO Pet Food Committee meeting. Dr. Burkholder (middle) is known at AAFCO as "Crabby Bill" (he often wears a Crabby Bill ball cap during meetings). During a meeting with FDA in 2016 regarding endotoxins in pet food – Dr. Burkholder is who stated "you want us to landfill?" waste meat ingredients sourced from diseased and non-slaughtered animals (to which I responded 'You want pets to be living landfills?'). We don't always agree on everything (ok…rarely agree), but unlike how AAFCO has responded to consumer advocates – Dr. Burkholder/FDA has always agreed to any meeting request we've made.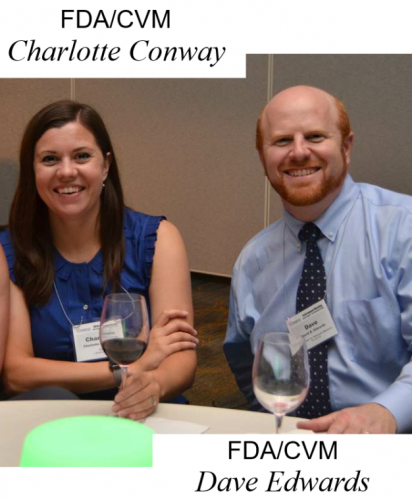 Charlotte Conway (above) is one of the FDA representatives Dr. Karen Becker and I met with in Washington DC June 2017, Click Here to learn more about the outcome of that meeting. Dr. Burkholder, Charlotte Conway and Dave Edwards gave consumer representatives an hour plus private meeting (except for industry listening in) during this AAFCO session.
And industry representatives that attend AAFCO: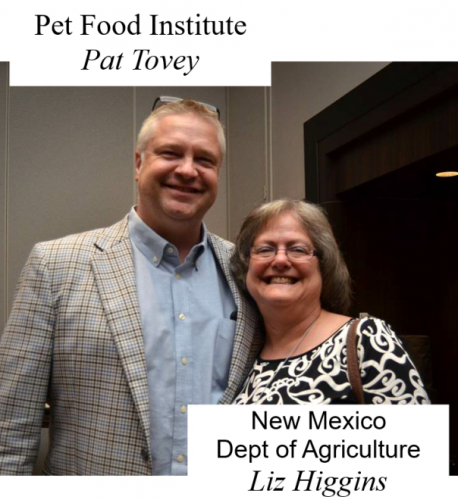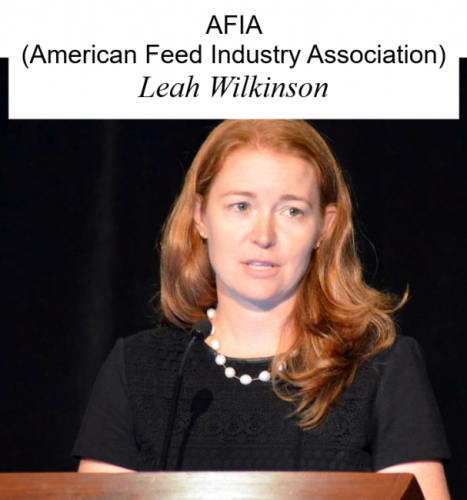 This picture was taken during Ms. Leah Wilkinson's presentation to AFIA members during the AAFCO meeting (AAFCO provided AFIA time during this regulatory meeting to update its industry members). AFIA is the most powerful trade association at AAFCO.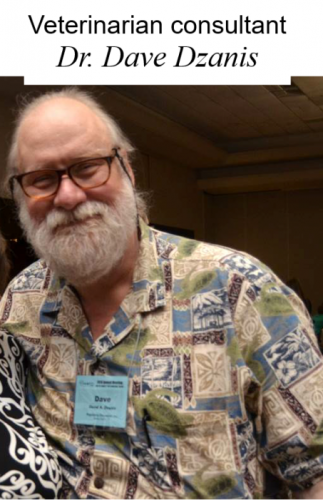 Dr. Dzanis is without a doubt the most experienced and knowledgeable individual who attends AAFCO meetings. He is another individual that we don't always agree with, but he is respected for his vast knowledge and his kindness to others.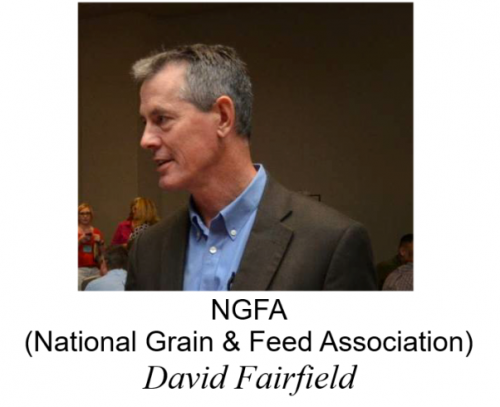 So…now you can put the faces with the names of people discussed in AAFCO meeting reports.
Wishing you and your pet(s) the best,
Susan Thixton
Pet Food Safety Advocate
Author Buyer Beware, Co-Author Dinner PAWsible
TruthaboutPetFood.com
Association for Truth in Pet Food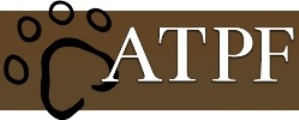 Become a member of our pet food consumer Association. Association for Truth in Pet Food is a a stakeholder organization representing the voice of pet food consumers at AAFCO and with FDA. Your membership helps representatives attend meetings and voice consumer concerns with regulatory authorities. Click Here to learn more.
What's in Your Pet's Food?
Is your dog or cat eating risk ingredients?  Chinese imports? Petsumer Report tells the 'rest of the story' on over 5,000 cat foods, dog foods, and pet treats. 30 Day Satisfaction Guarantee. Click Here to preview Petsumer Report. www.PetsumerReport.com
The 2018 List
Susan's List of trusted pet foods. Click Here to learn more.
Have you read Buyer Beware?  Click Here
Cooking pet food made easy, Dinner PAWsible

DISCLOSURE:
PetNewsHound.com is a participant in the Amazon Services LLC Associates Program, an affiliate advertising program designed to provide a means for us to earn fees by linking to Amazon.com and affiliated sites.